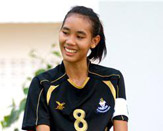 Taneekarn Dangda -
just as good as her brother
(c) Taneekarn Dangda
During the last week the qualification for the AFC U-19 Women's Championship 2011 took place. Unfortunately Thailand failed to qualify for the final tournament. Once more Thailand had to give the advantage to their archival.
It was just last year the ladies played the final round of the tournament. Drawn into group A, they finished last, behind North Korea, South Korea and Vietnam with no point on the board. No Thailand tried to qualify again for the final stage, with Warasak Upathumnarakhorn as head coach. He was responsible already last year. However, for that second qualification stage Thailand got direct entry. The campaign was played out of just one group and only the first spot guaranteed a place in the final tournament. U19 faced Chinese-Taipei, Uzbekistan, Iran and Vietnam.
AFC couldn't do better in creating an arc of suspense, to put the match between Vietnam and Thailand on the last day. At first the ladies won their opener against Taipei just to draw in the next against Uzbekistan.With no doubt, the match against Iran was the highlight for the "Changsuek", thumbing Iran by nine goals to nil. Everything was going down to the wire, in the last match. With Vietnam not have given up any point so far, Thailand needed to win in order to advance over their archival. But in the end it was only a goal less draw, which of course was not enough.

The two most successful goal scorers within the squad have been Thaoto Pajaree and Taneekarn Dangda. Thaoto scored six times and five of them cam from the match against Iran. Taneekarn found the net four times and is the younger sister of Teerasil Dangda who is a striker for Muang Thong United in the Thai Premier League.

However, to honour the girls at least which the association rarely does, you can find the squad below as for as known to us.

Goalkeepers:
Kamolthip Chanthaklai (Chonburi), Juthamat Puangmahod (Nakhon Sawan), Yada Sengyong (Nakhon Ratchasima)
Defenders:
Sunisa Cumpinij (Sisaket), Sunisa Wongsrikaew (Chonburi), Kunlatida Kraigitrat (Bangkok-Thonburi), Mata Uraiwan (Bangkok-Thonburi), Natthakarn Chinwong (Khon Kaen) Sunisa Pancha (Chonburi), Sawitree Mamyalee (Bangkok), Siriwan Seesa-Ard (Khon Kaen), Sirawan Intamee (Chonburi)
Midfielders:
Pranee Tanasan (Nakhon Ratchasima), Sailom Pittayanukulsup (Sisaket), Wannipa Kongthip (Ang Thong), Papadsorn Hiran ( Chonburi)
Strikers
: Taneekarn Dangda (Bangkok - Thonburi), Thaoto Pajaree (Khon Kaen), Rattiyakorn Pra-Ang (Sisaket), Ratnaporn Kemma (Khon Kaen)