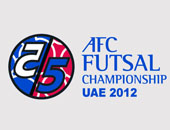 At the AFC Futsal Championship 2012, Thailand qualified for the quarterfinals. With no defeat coach Vic Hermans eleven could qualify for the knock out stage.
Since last Friday the Asian Championships in Futsal are underway. As expected Thailand won its Group A. In the opener against Kyrgyzstan, which at the end also could qualify for the quarterfinal, the Thais struggled. Though a hard-earned 2-0 victory marked a successful start. A
5-1 success over Turkmenistan
in the second game then nearly secured quarterfinal berth. Referee of the match was the Australian Scott Kidson to whom we will come back once again later this year, within the course of our World cup coverage.
For the hosting nation of this current tournament, the Emirates, it was all or nothing against Thailand as they had to win this tie to keep any hope alive to progress. After only few second the Emirates surprisingly took the lead which nevertheless lasted long. Thailand equalized, took over the command, and was up 3-1 at half time. The fact that the Emirates now had push forward played into Thailand's hand. After scoring a fourth goal game was over, in spite of another goal on the part of U.A.E.
In the quarterfinal, which is due on 29 May, Thailand will face Lebanon which could qualify running in second behind Japan. If Vic Hermans boys should reach the semi-final round, it could mark the end of their adventure. Since there Iran or Uzbekistan would wait. Most probably, however, Iran. The Uzbeks under reign of ex-Thai coach Pulpis would probably have to have an outstanding day if they want to defeat defending Champion Iran. For example of Iran's class, see the
fourth goal against Australia
. With the last Asia championship, Iran defeated Uzbekistan in the final with 8-3. However, Thailand's Dutchman Hermans particularly would like a meeting with Iran. He coached the Iranians in 2001 and led them to continental honor.
Nevertheless, achieving a place in the semi-final would be a great success for Thailand which saw his elimination two years ago at quarterfinal stage. Because the anew formed team mainly exists of young, internationally inexperienced players. One reason for the Thai's coach to stay as long in the tournament as possible is to give his youngster time to gain experience.