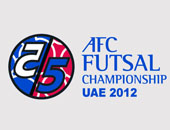 As hosting nation of the Futsal World Cup in November, Thailand do not need to qualify via the AFC Futsal Championship. But Thailand coach Vic Hermans is aiming for the semi finals at least. For all the other nations it is also about making it to the World Cup.
On this Friday the AFC Futsal Championship are due to start. A total of 16 teams, split in four groups, fighting for a spot in the quarterfinals. With no doubt record holder and defending champion Iran is the hot favorite to win the tournament. In group A Thailand will have to take on the host from the Emirates, Turkmenistan and Kyrgyzstan. Anything but finishing top of the group would be a disappointment for worlds current number 10. in Futsal.
After winning the AFF Championship in style, Thailand prepared itself during May in Surat Thani for the upcoming tournament. At the close of preparation two warm-up against Australia been played, resulting in two wins (4-3, 4-2). Though apparently Thailand's new national coach has been pleased with the results, he criticized lack of concentration. A 3-1 and 2-0 lead on both occasions was given away too easily according to his opinion.
Thailand's opponent from preparation, the "Futsalroo" will have to battle with Iran in group C. However, with novice Qatar and in addition South Korea, the Australians should have no problems to qualify for the quarterfinal behind the Iranians. Of course the hotly tipped favorite wants to defend the title and almost sees the Championship as a sort of preparation towards the World Cup. Even though Futsal legend Vahid Shamsaei is back in the squad, Iran must renounced Masoud Daneshvar. During last Asian Futsal Championship he hit a total of 11 for Iran.
Indonesia in group D is the only other representative from Southeast Asia, beside the Thais. Facing Kuweit and China, fourth placed in 2010, above all Uzbekistan is the favorite to win the group. The Uzbeks coach is no one else than Jose Maria Pazo Méndez, better known as
Pulpis
. Over the past years, and together with Adisak Benjasiriwan, the former Thai national futsal coach, managed to establish Thailand at the top of the world. After Adisak been axed by Thai FA boss Worawi Makudi, Pulpis no longer had any desire to stay on. Though he could meet with Thailand in the final earliest.
Meantime Thailand rather strongly changed it's face under the reign of Hermans. Only two players of domestic champion RBAC are in the squad. Asking the Dutchman why only two of RBAC are selected, he informed thai-fussball.com: "When I arrived in February, basically the team was already picked. From there till now we did not lost a game and all players make progression. When I saw new players, as Oh from Lamgpang, Josh, Tam, and Mac from Surat Thani it was my first target to add them, as they are young and skillful." However, above all his focus was on quality, and that players are able to control a game instead of always attacking, Hermans answered our questions for selection criteria.
Thailand's group stage encounters are to take place from 25 to 27 May and at extremely favorable kickoff times. A good time for futsal enthusiast and for those which might become one. If you want to follow any of the Thai games, you don't have to look far. We have set up two streams, and as long as technology join in, you have the opportunity to follow the games either
on our website
or on our
Facebook site
.
As already mentioned, the AFC Futsal championship is valid as a qualification tournament to the World championship in November. All four semi finalists qualify directly.
Thailand squad:
Goal:
Surapong Tompa (Rajnavy), Prakit Dankhunthod (Thai Port);
field:
Piyapan Ratana (Thai Port), Nattawut Madyalan (Thai Port),
Arif Ahama (Thai Port), Suphawut Thueanklang (RBAC), Kritsada Wongkaew (RBAC), (C), Jirawat Sornwichian (Surat Thani), Thanakorn Penpakul (Surat Thani), Kongla Lekkla (Surat Thani), Apiwat Chamcharoen (Lampang), Sarawut Chaipeth (Lampang), Jetsada Chudet (Rajnavy), Nathi Thusiri (Samut Sakhon)