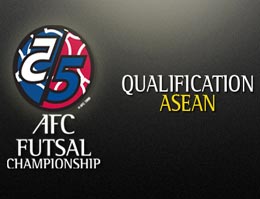 With a three month delay, contingent on the floods in Thailand last year, ASEAN-Zone qualification for the AFC Futsal Championship 2012 are due to kick off this week.
Hosting city for the ASEAN qualifiers this week is Bangkok, which means a home right for the Thais is guaranteed. Even if hardly any foreign fans are expected, nevertheless, this is a good opportunity to rehearse the case of emergency for the Futsal World Championship later this year. The tournament is played in two groups. Thailand is favored to win group A facing relatively easy tasks with Indonesia, the Philippines and Myanmar. In Group B Australia, Vietnam, Malaysia and Cambodia are fighting for two places in the semis.
At the end of the tournament the best three teams earn a ticket for the continental championship to take place in May hosted by the Emirates. Then this tournament at the same time serves to determine Asia's representatives for Futsal World Cup in November in Thailand, where the host is automatically qualified. Reaching the final of this week qualifying tournament is the least expected from the Thai national team. In history, Thailand once reached the final of the AFC Futsal Championship, 2008, and came up third four times.
With the Dutchman Vic Hermans, finally a new national team coach is expected to be on the sideline. But yet he is not officially introduced by the Thai FA. Hermans which last coached Malta is known as expert in imparting of knowledge of technique and tactic training. He celebrated his biggest success with current AFC Champion Iran in 2001. As Hermans just arrived to Thailand beginning of this week, the team was prepared by Tobacco coach Sarawut Bunpanya. We already could talk to the Dutchman and as soon as he is officially introduced, we are going to publish it.
Thailand does not see the qualification as a fast-selling item and is reflected in the fact that preparation already began in January. Always at short notice players were called together between league games.
It is interesting that only thre players of RBAC are in the team, the club which, till recently formed majority of the national team. Jetsada Chudet from Navy who could score 25 goals so far this season, should wear the captains wrist . Latest test results are 6-2 win over Navy in Sattahip and a 7-1 in Thonburi. Unfortunately, RBAC striker Supawut Thuenklang injured his knee and he will be doubtful.
Substantially Group B most likely to be the more exciting one of the two. Australia ranks 27 in the world and is favorite to win it's group. But one expect a tough battle for the runners-up spot between Vietnam and Malaysia. Vietnams Sergio Gargelli knows that it does not become easy and called his troops together for a three weeks camp. Particularly against Malaysia one wants to give more than hundred percent. Australia's latest test against RBAC last weekend, ended in a 1-1 draw.
Already with the qualification round to the AFC championship in 2010, Vietnam clashed with both sides what is expected to be their toughest rivals in Group B. Against Australia, Vietnamese side lost 1-4 and drew with Malaysia at group stage. Third-place play-off tie against the Malaysian resulted in a 6-3 loss in extra time. The last time Vietnam beat Thailand's southern neighbor was at the SEA Games last autumn.
Cambodia, the fourth team in the group, began its preparation already in October last year. Hok Sothitya is the current man in charge after his younger brother stepped down two month ago focusing on the acquisition of the FIFA A-license.
But of course all fans looking forward to a clash of the two arch-rivals in SEA, Thailand and Vietnam. The last time both have met was during aforementioned SEA Games and resulted in heavy defeat for Vietnam.
Two fixtures are held at a different venue (23 February Australia - Vietnam and Philippines against Myanmar, at Thai-Japanese sports complex in Din Daeng) but all the others to take place at indoor arena of the Bangkok Thonburi University.
Thailand's fixtures in Group A, are as follows: Myanmar on 21 February (19:00), Philippines on 22. February (19:00) and Indonesia on 23. February (17:00).
Semi finals are due on 25 February with winner of group A taking on runner-up of group B at 14:00 and winner of group B taking on runner-up of group A at 17:00. The tournament is going to be closed with the final played on 26 February, kick-off 17:00.
Tickets are available at the respective halls for a price of 50 Baht each. Students have free entry. Star Soccer (true CH 75) is doing live broadacast while SMM TV presents the highlights.
Thailand squad:
GK:
Surapong Tompa (Rajnavy)
Prakit Dankhunthod (Thai Port)
FP:
Suphawut Thueanklang (RBAC)
Kritsada Wongkeao (RBAC), (C)
Keattiyot Chalaemkhet (RBAC)
Apiwat Chamcharoen (Lampang)
Suchin Eamchalard (Lampang)
Piyapan Ratana (Thai Port)
Nattawut Madyalan (Thai Port)
Jirawat Sornwichian (Surat Thani)
Thanakorn Penpakul (Surat Thani)
Jetsada Chudech (Rajnavy)
Thananchai Chombun (Cat)
Natawut Sirangpirot (Nonthaburi)
Coach:
Bongkarn Phromphui