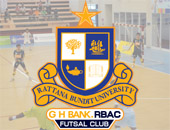 After the AFC Futsal Championships for national teams, at which Thailand could finish second, the third official AFC Club Championships are on the schedule starting this weekend in Kuwait city.
Thai champion and cup winner GH Bank-RBAC is to represent Thailand and it will be the clubs second appearance in succession. After only 2 points and an early exit at group stage, last year, RBAC hopes on similar results like the national team could achieve recently. Though looking at RBAC opponents, it shows that it will not come easy to make it to the knock out stages.
Nagoya Ocean is to be considered one of Asia's top-teams. Since the introduction of Japan's F-League, the club won all domestic championships. In May, four players (Hisamitsu Kawahara, Wataru Kitahara, Rafael Henmi Katsutoshi and Kenichiro Kogura) helped Japan to win the AFC Futsal Championhip over Thailand and Henmi Rafael was named the most valuable player.
Besides Portuguese Jose Adil Amarante can fall back on Morioka Kaoru who was the F-League's top-scorer last season with 34 goals. Thailand's Futsal superstar and former RBAC player Lertchai Issarasuwipakorn signed a two year contract with Nagoya couple of weeks ago. But it's unlikely he can face his former teammates. He underwent a surgery on his back and may be out for 3 months. Anything but retaining the continental crown would be a disappointment for the Japanese.
Another heavy, but rather doable job is Ardus Tashkent. Already last year RBAC have clashed with them at group stage and both separated 4-4. It was the only point Ardus could come away with. For the Uzbeks, unofficially, this its the third participation on the tournament. During a test run in 2006 the club finished second and draw 3-3 with Thai representative CAT-Telekom during group phase. This year, Ardus could strengthen its squad with the 33-year-old Spaniard Carmelo Jonathan Delgado, called Yoni, who up to now played with Spanish side Cartagena.
The third team in group B and RBAC's opening opponent comes from Lebanon and is called All Sport Choueifat. As Al Sadaka became third last year, the reigning Lebanese champion qualified automatically for the final tournament. If RBAC wants to have a chance to move on to the knock-out stages, three points against All Sports are essential. The omens are favourable for the Thais. Last year they draw against Al Sadaka and just a few weeks ago we could see that Thais are able to fight back. Thailand turned a 0-2 deficit into a 5-3 win against Lebanon during the AFC Championships.
Thailand's RBAC will be able to line up two current internationals with Suphawut Thuenklang and Kritsada Wongkaew. But also former internationals like Panuwat Janta. Moreover, the club could secure the service of 36-year-old Brazilian Carlos Eduardo de Oliveira, called Passarinho. His one 1- year-contract sets a new record for Thai Futsal with a reported monthly salary of 5.000 Euro. Just for the Club Championship campaign RBAC lent Nattawut Madyalan from Thai Port and Natawut Sirangpirot from Nonthaburi. Hence the Thai side is able to field an almost Thai national squad.
Apart from Nagoya Oceans the Iranian club Sayane Giti Pasand from Isfahan can be considered favorite to win the Futsal tournament. Giti Pasand is full of Iranian internationals. The Worlds best goalkeeper of 2010, Mostafa Naziri as well as AFC player of the year 2011, Mohammad Keshavarz are in their ranks. Latter lost the final last year against Nagoya Ocean with his former club Shahid Mansouri and has already announced that one does not want to make it easy for the Japanese this year. However, at first the Iranians must argue with Al Rayyan, Thai Son Nam (Vietnam) and the home team Yarmouk SC in group A.
Meanwhile the Iranian champion Giti Pasand lost its championship crown. Obviously there was an agreement on the very last day of the domestic season, which helped Giti Pasand to win by 11-2 over Persepolis and surpass Shahid Mansouri by goal difference. At the moment it is not known whether Giti Pasand takes part in the tournament or Shahid Mansouri moving up.
For Yarmouk SC it is, of course, a special honour to be allowed to hold this tournament and getting the chance to promote Futsal sport in his native country. For the first time and just recently, Kuwait could qualify for the World Cup. Although Yarmouk SC, together with Thai Nam Son, are the clear underdogs, the Kuwaitis prepared oneself intensely at a tournament in Barcelona under the eyes of reigning Brazilian coach Eder De Fabiano Soares Souza.
In case RBAC should finish second behind Nagoya, it is likely they face a Iranian team at the semi final. If things do not going well there, however, the Thais at least would have the chance to play for third place.
All games of RBAC can be followed via
livestream
on our website.