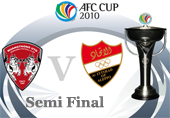 The 2010 AFC Cup semi finals are ahead of us, and Muang Thong United will have to take on Al-Ittihad Aleppo from Syria in a two legged round.
Aleppo based Al-Ittihad finished in 4th place last season of the Syrian Premier League, which didn't started yet into the new season. The club was founded in 1953 and their biggest success came in 1986, when they made it to the semi finals of the Asian Club Championship, predecessor of todays Champions League. Seven national championship trophies and 8 national cup trophies are in the cabinet of the club. Current head coach is Valeriu Tita from Romania.

In this year 2010 AFC Cup campaign Al-Ittihad finished the group stage in 2nd place behind Quadsia SC from Kuwait. Quadsia edged Thai Port FC in the quarter finals. The Syrian side advance to the quarters, beating Kuwait SC after penalties. In the next round Al-Kazma were waiting and Ittihad was able to win at home (3-2) and away (1-0). Even they were the most lucky side in both matches, you can't underestimated them. They are always able to score, just to sit back in defence after it.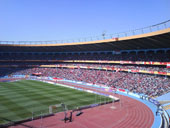 Aleppo International Stadium
cc-sa by Firas1977
For Muang Thong it wil be vital to score as much as they can in the 1st leg. Because it is expected that In the return leg Muang Thong will face a side trying to break them down from a psychological point of view. The Aleppo International Stadium, finished in 2007 after 27 years of construction, can host up to 75.000 people. During the quarter finals against Al-Kazma, 34.400 people were in the stadium. Being aware that Muang Thongs last opponent Al-Karamah, from Syria as well, thought that they have been disadvantaged by the referee, won't make the tings easy for the Thais. One of the very active supporters group are flagging a huge Hulk banner. Along with it, firing up flares are very common.
For the 1st leg, Muang Thong plans to open the upper stands in the stadium to host all the fans. However, the pre-sale is not as expected. Maybe the majority will buy their tickets just on game day. Kick off will be on October 5fth, at 19:30 local time (14:30 CET).
Muang Thong will be without the service of Kone Mohamed, who is suspended by yellow cards. Datsakorn Thonglao have to be careful. Because if he will be booked, he will miss the return leg.
FIFA referee Alireza Faghani from Iran will blow the whistle for this match. The 32-year old was in charge of AFC President's Final in 2009 and the 2010 AFC Challenge Cup Final.
Most likely the match will be televised in Thailand, and we are pretty sure that Siam Sport will be the broadcasting channel. Livestreams are probably available too, and we will keep you updated on this on our facebook site.

Author:esgede