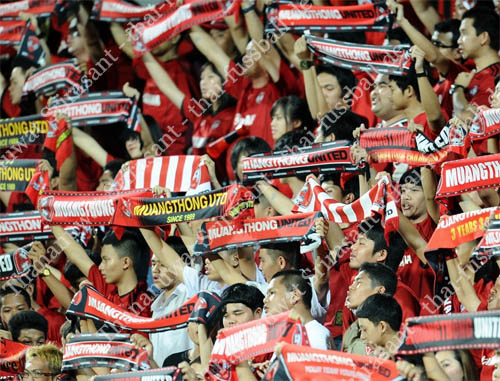 Muang Thong Fans
© Thananuwat Srirasant
Second leg of the AFC Cup quarter finals are on the programme on Tuesday. Both Thai sides, Muang Thong and Chonburi will face an uphill battle after loosing the 1st leg by the same results. Only wins are counting if they want to advance to the semi-finals.
Chonburi FC as well as Muang Thong United had to accept a 0-1 defeat in the first leg. Nevertheless, 2010 Thailand league champion substantially is in a better position with facing Kuwait SC at home on Tuesday. Datsakorn Thonglao is not worried and he counts on the home advantage of a packed Yamaha-Stadium with having the fans in the back. Muang Thong is still unbeaten in the 2011 issue of the AFC Cup: "We haven't lost at home this year and we want to crowd to rise up so we can impose our will on Kuwait." he is hoping. If Muang Thong should be able to overcome the Kuwaitis, they would repeat last years success by reaching the semis.
Former Liverpool star Robbie Fowler had his first appearance at Asian continental level two weeks ago starting for the Thai side. However, in spite of some good chances, especially at the beginning of the game, Muang Thong was not able to score.
The only goal of the night eventually came by the Brazilian Rogerio after 76 minutes of play. MTU coach Henrique Calisto, requests total commitment from his players for the return tie. "I've told our team not to fear anyone and to give 200% in the match. I really feel like we can win and advance." After his injury from the international against Oman, Teerasil Dangda is expected to be back in the line-up.
Chonburi FC is facing a much tougher challenge, as already expected anyway before tie went on two weeks ago. With a 0-1 deficit in the bag the "Sharks" travelled to Uzbekistan. Nasaf Qarshi is and was nothing less than the favourite to win the AFC Cup crown. Ivan Boskovic scored the winner for Nasaf right after the break at Chonburi Stadium. It was his ninth goal of the competition and it put him on top of the scorer list. Though Chonburi FC announced a 18-man squad ahead of the return tie, they just travelled with 17. Defender Anucha Kitpongsri was left back home because of a constant injury. Both sides miss two players due to suspension. Suttinan Phuk-hom and Erkin Baydullaev, both had to leave the field during the first encounter.
That leaves Chonburi with the absent of two important defenders. Withaya Laohakul is still confident and is going to field an offensive formation. "We discovered the real power of Nasaf only during the course of the match. Meanwhile, we have studied enough about Nasaf's weak points. Therefore my team will play an offensive game tomorrow." he let the press know. Coach "Heng" probably will start in a 4-4-2 formation, and new signing and Frenchman Anthony Esparza could see a rare start.
Meanwhile Nasaf coach Anatoliy Demyanenko does not see his men in the semi-final already. "We are not even thinking about a possible opponent for the semi-finals because we have not yet reached that stage but I will say right now - at this stage there are no weak opponents. So it makes no difference for us." as the 52-year-old said during the press conference.
According to experience from the past, Thai clubs lacking on travelling away support always for obvious reasons. However, as already seen on Chonburi recent away games in Hong Kong and India, a small group of ceaseless Chonburi fans made the trip to Uzbekistan. Our German forum member Tobi from the 4-Sups and some of the lads from the "Bangkok Sharks" are there to support the team.
Unfortunately, the Chonburi game will not be on TV as to our knowledge and it presumably left you just with Online-streams only. Muang Thongs match is televised on True sport 3 from 19:00 Thai times.