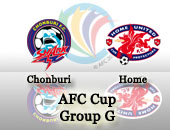 Beside Buriram, Chonburi had his international appearance during the week. The east coast boys in no way have been inferior to the Thai Champ and made Wednesday a perfect day for the Thai football.
In group G of the AFC Cup Chonburi hosted Home United from Singapore. The Sharks were lucky to draw against Yangong United in the first game, the more it was important to win against a team considered as competitor for winning the group. It is vital to win the group as only the first ranked team of each group is having the right to play at home in the next round. Home United turned out to the expected heavy opponent, and the game was balanced most time.
Former Home United striker Kengne Ludovick who was particularly motivated against his old club, and Krirkrit Thaweekarn played up front. Latter went into the game with two goals and one assist from the last weekend, but was taken off after 32 minutes. Sukree Ethae came on for him just to make way for international Pipob On-Mo who was sitting on the bench with a slight ankle injury. However, the goal of the night was provided by Ludovick, as he nod home a free kick from Suree Sukha.
All together Chonburi go the better chances to score and Lionel Lewis in between the sticks for the guests was forced to several saves. John Wilkinson in the jersey of Home United and last year under contract for Thai side Police United, played right from the beginning.
With four points from two games Chonburi FC is leading its group. Followed by Home United and Citizen AA, each with three points on account. In two weeks, Hong Kong based club Citizen AA is Chonburi's next opponent and with three points out of the tie, Sharks could set sail towards next round.
Brief highlights
of the game can be found on You Tube