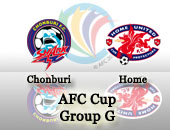 Last day of the AFC Cup group stage and Chonburi FC have to take on Home United. Both teams are already qualified for next round. However, the game is about nothing less than who is winning the group.
Because the intermediate round is held in a one-legged tie, so without a return match, all group winners automatically earn the right to play at home, and this makes this match so volatile. All the more if you consider teams from Chonburi's group G going to face opponents from group E. All teams of the group are from Middle East and long distance traveling could be avoided. Particularly as there was mostly hardly to win something for Thai representatives in this part of the world.
Chonburi with 11 points on account is having an one point advantage over their opponents and a draw would be enough to finish top of the table.
The first leg game could be won by Chonburi on a slim 1-0. Kegne Ludovick who moved from Home United to Thailand two years ago was the boy to score the winner. Though for most of the time, after moving east coast upwards from Pattaya to Chonburi, he is warming up the bench. It seems the beefy striker does not really fit Chonburi's game. Thus he was also absent on Friday during rehearsal against the Army. Despite of some good chances the Sharks lost 0-1. As Thomas Dossevi, who drew attention a few weeks ago with a hat-trick against Esan United is not nominated for the AFC Cup, Withaya Laohakul will rely on Ludo this Wednesday. Of course also because of his experience from Singaporean football. He is to start alongside Pipob On-Mo up front.
Anucha Kitpongsri should return into starting eleven after an ankle injury and will take his usual place on the left defense side. Also again a lot may depend on 38-year-old midfielder Therdsak Chaiman who with his witty playfulness and experience helped to secure on or the other point this season for Chonburi. As well as Ludo, Therdsak played several years in Singapore.
Home United is hoping for a better result than in the first leg. Coach Lee Lim-saeng focus on familiar surroundings and admitting his man got nerves in front of the audience in Chonburi.
Albeit Chonburi has not cover itself in glory on away during this campaign (3-3 against Citizen AA and 1-1 against Yangon) especially when one considers the big aim this year for the club is to reach the final. Nevertheless, one point would be enough for the Sharks to finish top of the group and earn the right to play in the first knock-out round.
The game kicks-off at 18:30 Thai time and is covered by true sport 3.