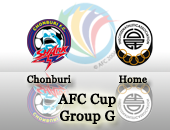 Hong Kong side Citizen AA is next for Chonburi in the Thai's third match of Group G. Three points from the tie would help the Sharks getting a step closer to next round.
Despite of the long season break at the beginning of the year, things are not running very smoothly for Chonburi so far. Only 5 points out of three league clashes and four out of two in the AFC Cup, are not enough by their own standards. Though same can be said about the Sharks next AFC opponent, Citizen AA. Standing in the shade of Kitchee SC, Pegasus and South China AA, the club from Mong Kok district currently is sitting on a fifth place in Hongkong domestic league.
Besides, during March, the club got knocked out of the League and FA Cup losing to Pegasus TSW and Kitchee FC with ex-Muang Thong Zesh Rehman. The "Flat Bags" as they are nicknamed, qualified themselves for the AFC Cup by winning last years Senior Challenge Shield, the longest running cup in Asia, played in 1896 for the first time.
Citizen lost it's first AFC Cup game ever to Home United, in spite having a 1-0 half-time lead. At home against Yangon United from Myanmar a disgrace could be avoided narrowly. The game could be turned around with the 2-1 winning goal came just in injury time.
Even if Chonburi's opponent can be classified as underdog, the Thais should not underestimate the visiting team. Chonburi will face a compact team, especially in centre of defence. But on the other hand Citizen is not really known for a clean finish. Captain Festus Baise, Brazilian Paulinho as well as Yuto Nakamura are the top scorers of the team, each of them having scored six goals so far this season with 20 games already played.
The Chonburi stadium usually is a fortress and therefore the visiting side should leave with empty hands. Although head coach Wittaya Lahokul still has something to think about. Anucha Kitpongsri as well as Natthapong Samana are doubtful for the tie. Both are key players in Chonburi's defense.
Citizen coach Chu Kwok Kuen is well aware of the tough task laying ahead and he acknowledged Chonburi to be the strongest opponent in Group G. Hence, with a point he would be very contented.
Kick off is at 19:00 and the game can be followed on true Sport 3.