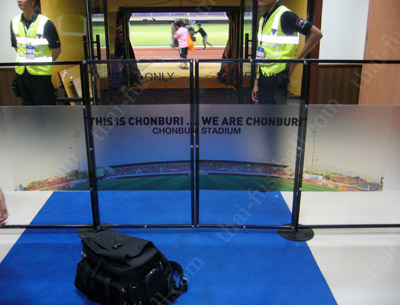 A final on home soil?
image: © thai-fussball.com
The draw to the knock-out stages of the AFC Cup, held on Wednesday, provided Chonburi with a good lot. If the Sharks can make it to the final, they have the right to play the one legged tie at home. But of course a successful quarter and semi final round needs to be played first.
Amongst the three representatives from South-East Asia: Chonburi, Arema Indonesia and Kelantan, five clubs from the Middle East were in the drawing lots. Though at the earliest we could see a regional encounter in the semi final. As Chonburi have drawn the Syrian representative Al-Shorta which allegedly is the easiest draw of all remaining teams from Middle East. It is the first international season for the freshly crowned champion of Syria in club history.
Because of the persistent situation in Syria, Chonburi will also not have to travel to Damascus. The return match is going to be played in Jordan. Should Chonburi arise as a winner from both matches on 18 and 25 September, either Kelantan from Malaysia or Erbil from Iraq wait in the semi-final.
After the regular draw, another draw been held, to determine the hosting side of the final. And the fortune was with Chonburi. If the Sharks reach the final on 3 November, they have the right to host it. If right now somebody asks itself whether the AFC Cup final 2012 in general takes place in Thailand, the answer is no. Merely the lot says that either Erbil, Kelantan, Chonburi or Al-Shorta are the hosts, depending on who reaches the final. But the way for Chonburi is set for a possible final at home. Now it is up to the boys around coach Haeng, to do the job and making it possible.
Full quarter final draw: Kuwait SC v Al-Wehdat, Arema Indoensia v Al-Ettifaq, Erbil SC v Kelantan and Chonburi against Al-Shorta.