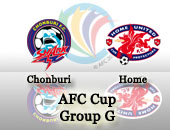 Chonburi FC will welcome Home United from Singapore on Wednesday, in the clubs first home game of this year AFC Cup campaign. If the Sharks want to remain in the race for winning group G, three points are nearly a must.
In front of their own fans, for Chonburi it is not just about getting three points. It is also about make amends for a weak performance against Yangon United two weeks ago. With Home United from Singapore, the Sharks are host to a strong competitor for winning the group. Home United's biggest success on international stage succeeded in 2004 with reaching the semi-final of the AFC Cup. Head coach at that time, Steve Darby. Best known as assistant coach of Brian Robson with the Thai national team and responsible for Thailand's under 23 during the SEA-Games 2009. One of Steve Darby's players in 2004 was Sutee Suksomkit (today Bangkok Glass).
The S-League club finished last years domestic season in second place and after three wins in a row this year currently sitting in fourth. With 13 goals after five rounds, Home United is having the most on account from all teams in the S-League. Six of them came by Japanese new entry Shotaro Ihata who joined from league rival Albirex Niigata. He also is leading the S-League scorer list.
Together with his partners up front, Frederic Mendy (leading goalscorer in 2010) and Qiu Li, Ihata was responsible for a 3-1 win over Hong Kong side Citizen AA a fortnight ago. Despite an early one goal deficit against them, Home managed to turn things around in their favor. During the break, in charge Lee Lim Saeng ordered his team to play over the wing sides to create space for the forwards, which paid off. Chonburi's coach Haeng is aware of the pacy wingers and already warned his side. With John Wilkinson a former TPL player makes his return to Thailand as he played for Police United last year.
The last time Home United faced a Thai team on international stage was during the group phase of the AFC Cup in 2009 where one lost against PEA (at that time still in Ayutthaya) 1-2 on away and won at home 3-1. Although finishing second and advancing to the next round,
"The Protectors"
eventually were knocked out by South China AA. At that time Kengne Ludovick, was part of the Singaporeans. Therefore Chonburis new entry might be particularly motivated. Between 2007 and 2009 he scored 19 goals from 32 games, before signing for his first job in Thailand with Pattaya United.
With a win over Buriram in the Super Cup and a smooth start into the new TPL season, by beating Thai Port comfortably 4-0, Chonburi should have enough self-confidence to overcome Home United. Though Coach Haeng most likely will be completely without Puttinan Warnsri, while star striker Pipob On-Mo just sitting on the bench with an ankle injury.
The tie is set to kick-off at 19:00 and true Sport 5 is covering the game live.