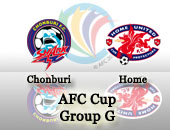 After an away victory against Home United, Chonburi FC is certain as a group winner and earned the right to play on home soil in the round of last 16. After 2009 and 2011 the Sharks reached the knock-out stage of the AFC Cup for a third time.
With his opening goal after five Minutes, Chonburi skipper Pipob On-Mo put his side on track. Ex-Home United Kengne Ludovick could have raised the score shortly afterwards but the crossbar saved for the host. Short before the half an hour mark Therdsak Chaiman then saw his attempt cleared off the line by defender Rosman Sulaiman. Home United coach Lee Lim-saeng brought in striker Frédéric Mendy right after and the home side started became more dangerous. However, both sides went into the break with Chonburi's slim margin of one goal. But Home United now played like a team, that want to become group winner.
After the break one could see Chonburi goalkeeper Sinthaweechai Hathairattanakool in his best form when saving a brilliant
overhead kick of Franklin Anzite
. Sulaiman who already cleared off the line in the first half, did it once again during the second 45 minutes when he denied substituted Noppanon Kachaplayuk. Though Noppanon did not gave up and with 77 minutes he hit for the two goal lead. Now, with the game close to end, things looked comfortabele for Chonburi. But it became narrow since the home team draw one back with four minutes to play and in injury time Home United saw declinded what looked to be a clear penalty. Surely, even a draw would have been enough for Chonburi to secure groups first place. But how knows what may have had could happen if the penalty would have been given and converted. It was not good at all and the numerously travelled Chonburi fans, celebrated.
Without a single defeat from group stage and with his first away win in 2012 Chonburi advance to the next round. Therefore earned the right to play at home in the round of the last 16. This is important as next round is just an one legged fixture.
Chonburi's opponent was determined on Wednesday evening in Group E and it is Al-Zawra'a from Iraq. Surely Chonburi's players are happy they do not need to travel to Baghdad. The encounter takes place on the 22 May. Hence, presumably the league match against Buriram on 19 May will be postponed. The Iraqi champion of the last year is not unknown on continental level. In 1997 the club reached the semi-final of the competiton what now is called AFC Champions League, and in 2000 even made it to the final of the Asian Cup Winners Cup.
For Chonburi, backed by there fans and playing at home, this should be a doable.