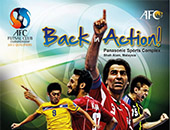 For Thailand's Futsal flagship, the Chonburi Blue Waves, a compulsory task lies ahead with a qualifying tournament to the AFC Club Championship 2013
Since the introduction of the AFC Futsal Club Championship in 2010, so to say the Asian Champions League for Futsal, the competition is steadily gaining popularity. This forced the AFC to introduce a preliminary round in which a total of 13 clubs are participating this year with representatives from Japan, Uzbekistan and Iran, already waiting in the final round.
Thailand's representative in the qualifying round are the Chonburi Blue Waves. Just a couple of weeks ago the club won the Thai Futsal League in style. After three years under the name GH Bank RBAC, under which he had also taken part twice in the continental club championships, the club swept back in the lap of the FC Chonburi and is called since that time again Blue Waves.
The qualification round takes place from 11 to 24 April in Malaysia with seven teams from South-East Asia (including Dural Warriors from Australia), divided into two groups, are playing for three places in the final round. In each case the two best qualify for the semi-final. Chonburi was drawn into Group A together with Tainan City (Taiwan), Pasagard (Philippines) and Shenzhen Nanling (China).
Of course the Thais are favorites to top the group in which they are the only side with international experience. The teams backbone is formed off Thai internationals Nattawut Madyalan, Kritsada Wongkaeo and superstar Suphawut Thueanklang. In addition: doyen's like Lertchai Issarasuwipakorn and Anucha Munjarern. In charge of the side is former Thai national coach and Spaniard, Pulpis. Blue Wave boss Adisak Benjasiriwan brought him back to the "Land of Smile" at the beginning of the domestic season.
Specially for the continental club championship Chonburi signed Rudimar Venāncio (Xabi). The Brazilian last year have won the tournament with Iranian representative Giti Pasand. There he played together with Futsal icon Vahid Shamsaei. Apparently big money is not only spend in Chinese Football, but also in Futsal. Since the Iranian Shamsaei, meantime, is under contract with Chonburi's group opponent: Shenzhen Nanling. For Chonburi coach Pulpis, one candidate beside his own team, to reach at least the semi-finals.
With Pasagard FC, for the first time a representative of the Philippines is playing at such an international level. There, it seems trainer Esmail Sedigh is having three jobs. Coaching the futsal and football team of Pasagard as well as the national Futsal side of the island state.
The final round will be played in Japan from the 23 to 29 June. Iranian champion Giti Pasand, as well as the coming domestic champion of Japan and Uzbekistan are qualified directly for the final in 2013.