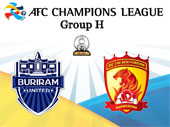 After a quite surprising victory over Japanese champion Kashiwa Reysol Buriram United meets Chinese side Guangzhou Evergrande on the second day of Group H.
On the opening day of group H and away, Guangzhou the Chinese champion of 2011 swept away South Korean representative and last year's AFC CL finalist Jeonbuk Motors by a not less surprising 5-1 win. Besides, the Chinese team is not unknown at all, even if the headlines with one drew attention are all of younger date. The first time the club made into the limelight, or here twilight, was in 2010 as it became known the club had bought promotion to the Chinese top-flight in 2007. Therefore Guangzhou faced enforced relegation, just to return immediately after one year.
In the same year the current owner and name giver Evergrande took over the club. Experienced South Korean Lee Jang-Soo, who lead Seongnam Ilhwa Chunma to win Asian Champions League in 1996, has been hired as head coach. Mr. Xu Jiayin, at the same time boss of Evergrande one of the biggest real estate companies of China, was listed among the 200 richest people by Forbes. All together he wants to spent more than 100 million dollars on the club this year.
Jiayin's biggest aim of course, is to win Asia's top continental club competition. Backed by so much money, it did not surprise when rumors arose after which Chelsea striker Didier Drogba could have had joined the team from the town also known as Canton. There were further news recently, of a possible move from Lucas Barrios of German champion Borussia Dortmund. The reported offer was around 10-15 million Euros.
The best known player of the current squad is Argentine Dario Conca who arrived last year from the Brazilian champion Fluminense for a domestic record transfer fee of 7 million US dollar. The offensive midfield player was elected "footballer of the year 2010" in Brazil. With more than 10 million US dollars of annual salary he counts as big earner in Chinese football. Last year, in 15 games he scored 9 goals for his new club and at the beginning of March he hit twice at the season opener against Shanghai.
A
fortnight ago
against Jeonbuk, Conca scored two goals, as well as Brazilian striker Cleverson Gabriel Cordova did. The third goal scorer of the 5-1 victory, Muriqui, is another Brazilian. In the league, Evergrande lost to local rival R&F last weekend. In view of the financial background of Evergrande, Buriram exceptionally might feels like David against Goliath.
Should Buriram come away with a draw, it probably would be a similar sensation like the win over Kashiwa. To achieve such a result it would require
the same style of aggressive, high pace football, Buriram was able to perform on the opening day and a better performance of goalkeeper Sivaruk Tedsungnoen. Buriram's rehearsal went out successful, with a win over Chiang Rai United.
Missing key players are not known to us so far. A good 120 Buriram fans have made the trip to China to support their team. For all those at home the game is live on true Sport 3. Kickoff is at 19:00.