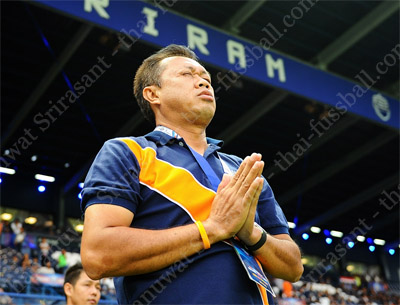 ....it did not help
Bild: © Thananuwat Srirasant
Buriram United had to face it's exit of the Champions League 2012 without own assistance. The game against Guangzhou Evergrande was played for honor.
The initial situation before last round of Group H was very clear. Buriram could only make it to the knock-outs by beating Guangzhou at home. At the same time Thailand's representative had to hope Kashiwa would not beat Jeonbuk. Both cases did not happen. The sad thing overall is the faux pas AFC allowed to happen with robbing the match day of any tension. Just remeber, all teams were separated only by three points. But Jeonbuk against Kashiwa was kicked off 90 minutes before the Buriram Guangzhou encounter. At the time Buriram entered his pitch, Kashiwa already lead by 2-0. After more 15 minutes the Thai side had been eliminated from the Champions League 2012. All quick prayers on the part of Newin did not help.
Buriram had to be without the service of Ekwalla who was suspended. While Uzbek Asqar Jadigerov has not been even in the squad. According to latest news he is allowed to leave the club. Up front coach Attaphol Busphakom fielded three strikers, besides Achempong and Ohandza it was Ekkachai Sumrei. However, he was replaced after 20 minutes by Suriya Domtaisong.
Even Buriram had already been eliminated, the team gave everything. Briefly after restart the just substituted Gao Lin gave Guangzhou the lead. But the home side could equalize due to Suriya couple of minutes later. Sarif Sainui and Achempong afterwards squandered one chance after another in following minutes. So it was on Conca to score the winning goal for the Chinese, provided by a penalty kick in injury time. Initially the Brazilian has been banned for nine games by his club. However, coach Lee did not want to renounce him.
Therewith Buriram United's first Champions League season ended with the group stage. After a fulminant start with two victories Buriram probably run our of steam a bit, and above all in return matches opponents did not underestimate the outsider. However, all together Buriram can be a pride on performances shown. Almost always equally and attractively playing, United was a good representative of Thailand.
Eespecially Achempong and Ohandza might considerably have increased her market values. Hence, there remains to be seen whether Newin does accept possible new offers in summer for both.
Now the focus of the club lies clearly on defending all national titles to be able to play on international stage next season. No easy undertaking. While other clubs may enjoy season break, the Esan club will have to play rearranged fixture which had been postponed due to Champions League. However, more ironically and maybe, fortunately for Buriram, the top game on coming weekend against Chonburi has been moved. This time because of the Sharks. They will have to play their AFC Cup round of last 16 next week. It saves Newin troops to play three cracking games in a row: Chonburi, Bangkok Glass and Muang Thong.