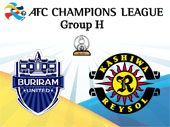 After Chonburi has booked his ticket for the AFC Cup knock-out stage last week, Buriram United could come a step closer to the next round of the Champions League tomorrow. Therefore it would be necessary at least to share points with Japanese representative Kashiwa Reysol.
With a 3-2 victory over the Japanese champion in the first leg, Buriram caused an international uproar. After four rounds played of Group H, and with just 4 points on account, Kashiwa is sitting bottom table and stands with it's back to the wall. A draw or even a defeat and all Champions League dreams would have burst prematurely. As head-to-head counts over goal difference, Kashiwa would be left with nothing.
Things are not just going well on continental level for the Japanese. They also had a slow start into domestic competition, with only eight points from eight games.
Kashiwa's last Champions League game against Guangzhou, a fortnight ago, resulted in a loss. Kashiwa faced some hard luck when the Chinese side took the lead from a controversial penalty kick. Indeed, at the end sloppy defense work was to blame on the fact that one lost 1-3 after Nelsinho Baptista's men managed to pull one back. But also Buriram's defense showed shaky performances recently. It seems, especially Hermann Ekwalla is out of form and also goalkeeper Sivaruk adding an element of uncertainty to it. He revealed weakness in dominating the penalty area and catching balls.
The Esan side had a break the last weekend, as the TPL tie against BEC-Tero Sasana has been postponed by the league, to give Buriram enough time to prepare. So everybody should be well rested and Coach Tak without any injury worries. Consequently Buriram could field his best 11. Since both strikers Franck Ohandza and Frank Acheampong are always good to score, primarily, the performance of both defense ranks might decide over victory or defeat.
Buriram's president Newin Chidchob meanwhile strengthens the self-confidence of his men and is sure that his team is strong enough to take three points. He sees Kashiwa as the side forced to do create something and obviously wants to add some pressure on the hosts. Unlike to the up to now predominantly objective and appreciative comments after the first wins, he now found different words published by the 'Bangkok Post'. His team did not play to full potential in the 3-2 win, because his side went into the game with too much respect for the opponent and J-League Champion. While Nelsinho Baptista admitted that his side simply underestimated the Thais in the first clash.
The game is broadcasted by true sport 3 and kick-off time is 17:00 Thailand.