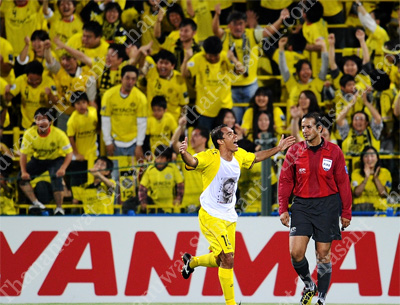 Domingues celebrates his goal
image: © Thananuwat Srirasant
Buriram and his president Newin Chidchob were confident ahead of today's tie against Kashiwa and hoped for one or even three points. It did not came trough and the Thai side lost by one goal. Buriam now is under pressure and needs to go nap on the very last day.
Coach Attaphol Busphakom was sending out his best available team with Ohandza and Achempong up front. Only Apichet Puttan had to be replaced with Jakkrapha Kaewprom. During the first 10 minutes both sides clashed without wasting time on tactics and it promised to become an entertaining encounter. At all events, Burriam defender Ekwalla had a short evening. We named him as a weak spot in our preliminary report and he, unfortunately, did not prove us wrong. Quite early in the game he received his first yellow. After stepping on opponents foot, shortly before half-time, he saw his day work done.
A good 20 minutes before the Brazilian Leandro Domingues provided the goal of the day. Two shots from distance are the only appreciable opportunities are to note from the first half for the guests. Not that Buriram has played badly, but coach Tak men mostly operated not determined enough the closer they came the penalty area hence could not provide real danger.
With beginning of the second half Kashiwa sat back, gave Buriram some more space and waited for what might could have come. Kashiwa remained dangerously with counter-attacks and Sivaruck in the goal of Buriram had same decent saves and made a rather well figure today and less shaky than recently. Toward the end of the game Japanese side Kashiwa started to play for a second goal. With some luck this could also have been the case. Both late second half substitutions Sarif Sanui for Suchao and Asqar Jadigerov for Ohandza did not did not pay off for Buriram. All together the representative of Thailand simply acted too harmlessly and the defense might cost them one point.
After two wins at the beginning against Kashiwa and Guangzhou, Buriram now have to swallow a third defeat in succession. Now on the last matchday of group H, on 15 May, three points are a must to keep hopes alive making it to the knock-out stage. But at the same time, Korean side Jeonbuk must beat the Japanese. After round 5, table looks as follow: Jeonbuk 9 points, Guangzhou 7 points, Kashiwa 7 points and Buriram at bottom with 6 points.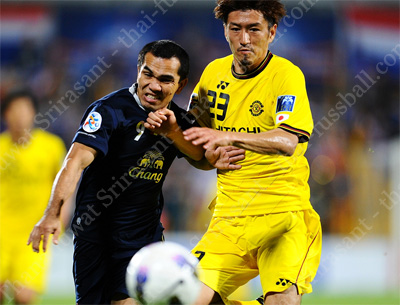 image: © Thananuwat Srirasant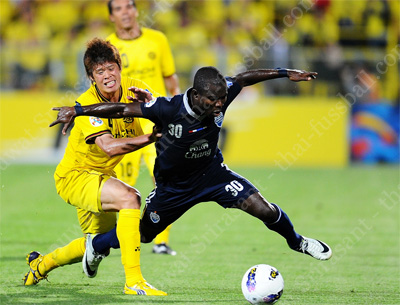 image: © Thananuwat Srirasant
image: ©Thananuwat Srirasant