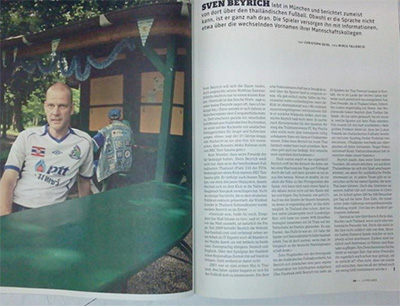 11 Freunde Magazine 09/2012
Bild: © Thananuwat Srirasant
Some months ago, Germany's biggest monthly football magazine, in the tradition of the famous English mag "When Saturday Comes", published an article in its print issue about the founder of thai-fussball.com and his website. Below you can find a brief translation of the article which was originally published in German.
Sven tries to tear his hair off his head, but in view of his Matthias-Sammer-like haircut, he is left scratching his head. "Crazy is the wrong word" he says, "but my friends often call me barmy". Then his attention turns to his computer and a mysterious jumble of Thai letters appears on his screen, something you usually find on the back of Asian instant meals causing fear and dread. "No" the 37-year-old says, "this is old hat: I already know Rozaimi Abdul Rahman won't join BEC Tero Sasana."
It's no wonder his friends think he's barmy. Because Sven does not only know that there is a club called BEC Tero Sasana in the modest footballing nation Thailand, he also follows the transfers, like in the case of the young Malaysian, whose transfer to the Bangkok based club has fallen through. Not the only news he has brought to German readers exclusively. At the time Winfreid Schafer became Thailand's national team coach, he was the first to announce it in Germany.
"To be crazy, for me means to exceed the proper dosage". But what this excess looks like, that is the question. Since 2009 Sven has run thai-fussball.com, and in addition to his job as an IT-expert, is spending 40 hours a week to feed the site with articles – bilingual by the way, in German and English – or he is updating the schedule of the Regional League Division Central & East. Money: he doesn't earn any from it.
In 2001 he went to Thailand for the first time, and three years later he started getting interested in the local game. The German national team played in Bangkok, but he couldn't find out anything about the Thai players. "There was simply nothing to find or to read about". Labourious, he collected information and filled Wikipedia with articles. It wasn't enough for him. He researched for reasons why traditional clubs like Raj-Pracha faced regression. Or simply wanted to know more about players like Sarayuth Chaikamdee – totally unknown in Germany.
But why he is doing all this? He throws his arms in the air, in a mixture of Yoga and early-morning exercise while words just bubble out of his mouth. What he is talking about in particular is how close you can be to the games' protagonists. "After a game at Allianz Arena, I can't go on the pitch and just ask: Hey Schweini [Bastian Schweinstieger] how's it going?" It's not even possible at Bayern Munich reserve games he used to visit on a regular basis.
Ten flying hours from the hotspot of Thai football, he set up a network of informants and is in contact with several players of the Thai Premier League via Facebook. And he has got to know most of them personally. Two friends, both living in Thailand, feed him regularly with news, and at the weekend Sven is doing livescore on twitter. "It took me years to recognize which player is on the pitch just by seeing them and learn their names. It was a tough job." His biggest problem: Thailand's Lukas Podolski could have a different name on the next match day. "It happens that Thais switch their names because of superstition. Even Thailand's national goalkeeper Hathairattanakool changed his name."
Sven firmly believes that his website is not just of interest for tourists, who may want to know where they could watch a game on the next visit to Thailand, but also for foreign players. Every team in Thailand contains six to seven players not capable of reading Thai.
Two times a year, for three weeks, Sven travels to Thailand where his girlfriend lives. But she has less chance to see him than that. He wants to watch at least half a dozen games during his stay. In addition to that, interviews need to be done, and contacts need to be maintained. Does his girlfriend ever ask him whether he is crazy? "Not really. But her wish is, that with all that work, some money would come up."
With thanks to Paul Hewitt from
@swatcat_fc
who did the editing of this article.