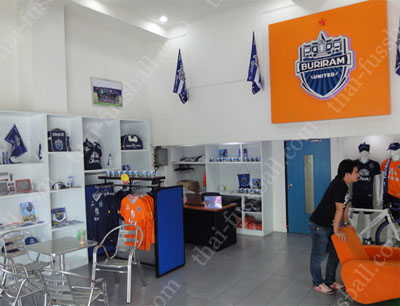 Buriram fan shop in Bangkok
image: © thai-fussball.com
Sometimes you plan a short stop and it turns out to be more. So in the following case. Our reporter Boy just wanted to visit Buriram United's fan shop in Bangkok and at the end, found himself right in the in the middle of "Buriram TV". Here his report.
As the newly opened fan shop of Buriram United lies on my way from the old Don Mueang Airport to the venue of the AFF Futsal Championships, I did not want to miss the opportunity to shoot at least a few photos. Just arrived, pulled out the camera, suddenly the door flew open and my friend Gop appeared with a toothy grin dressed in a Buriram shirt. Wait a second, what's this? Isn't he a
'die hard'
Chonburi supporter?!
He said: "OK, don't worry. I just working for Newin Chidchob's Buriram TV which has its studio directly above the shop." In the stadium, in any case, his sympathies would be distributed quite clearly he underlined. Ok, I said to myself. Because meantime, our website photographer Thananuwat is working for the president of Buriram United as well.
After I took a few pictures of the shop (myself with Muang Thong shirt and Gop always holding up 3 fingers as a running gag as sign of the Buriram triple) we make our way to the second floor where Gop is showing me the TV studio, the production and make-up space (with a ladyboy working as make-up artist…). Buriram TV, he explains, is broadcasting 24-hours, 7-days a week. Besides talk shows, the programme contains news around the team, player interviews and re-runs of Buriram games from the archives. The channel is financing itself through commercial spots, which are running three times every hour. It can be watched on the club's website and on IPM channel 69. Latter giving us another occasion for a joke. With a twinkle eye he means, "it is just like Manchester United TV or Barca TV", whereupon I reply "I find, it rather like Tak FC TV"
[Tak is one of the most fruitless clubs in recent years of Thai football, editor]
.
Moreover, I comment that the temple ruins on the Buriram logo are Khmer onces, what one in Thailand should better avoid to talk about. There is no love lost between Thais and Cambodians. Gop protests, the temples are on Thai ground leaving me to say "Yeah, surely, the Thais have conquered the area". In any case, we have a lot of fun.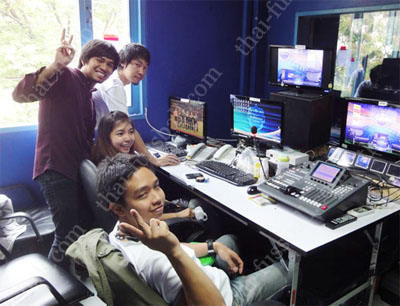 direction room of Buriram-TV
image: © thai-fussball.com
Around the 12 hour mark, Gop ask me to step into the studio where a talk show is soon to start. He and another presenter have invited a football fan, which I still know from a fan meeting a year ago where it was about the coordination of the Worawi Makudi protests. Also in today's talk show it is about Worawi but also about Siamsport and what Newin undertakes in the finance affair against the Thai FA and Siamsport. In addition the Siamsport documents, which also partially can be found on the website of Buriram, are shown and discussed.
For me as an outsider and moreover as westerner, a few question marks popping up in my mind. E.g. whether now the anti-Worawi people are used by Newin for his campaign or they are using the TV-Show as a platform to stage their protest.
During the commercial break Gop ask me whether such things, happen right now with Siamsport, would be also possible in Germany. And clearly no. Heads would roll. Finally, we also agree that Buriram of course would have had to get the 10 million prize money for the championship already. No matter one stands to the club and his president.
The fact that the programme of Buriram-TV is of course pro Buriram, is self-evident. Critical reports which questioning things going on behind scenes may have no chance here. For the TV-show employees this might not make difference, as long as they see they payslip right on time every month. And here, moreover, the presenters can indulge in her football passion. Though they are no trained journalists, however, they all at home in football and have suitable contacts with other fans and clubs. Unfortunately, my Thai is not sufficient enough to ask who is putting the show together, whether there is a responsible director and whether he has free hand with the subject choice.
At the end Gop invites me to follow the Champions League match of Buriram against Kashiwa Reysol in the fan shop. The last time about 50 people have come to watch it together as he said. I decline with thanks, because first I currently do not live in Bangkok and secondly I have no sympathies for Buriram United.
Regarding the shop, there you can buy everything what is available in Buriram merchandising. From coffee cups, shirts and scarf up to a book with bulky photos of last year. Indeed, the store looks more like a café with Buriram devotional objects and rather animates to sit and have a coffee than buy any items. With fan shops, e.g. from Muang Thong at SCG stadium he cannot keep up because of his size. Buriram jerseys cost less than 500 Baht. At the shop opening Newin itself had sneered at other clubs which offering jerseys for more than 500 Baht because this would be too expensive. Unfortunately, the good man has not mentioned that his shirts are no brand product.
Aftr all the Buriram United fan shop is the perfect stop for Buriram fans who search contact with like-minded people in Bangkok. Who wants to make off himself to get a picture of the shop or is in search of a Buriram jersey, the store is directly on the corner of Pahon Yothin Soi 43 in the North of Bangkok.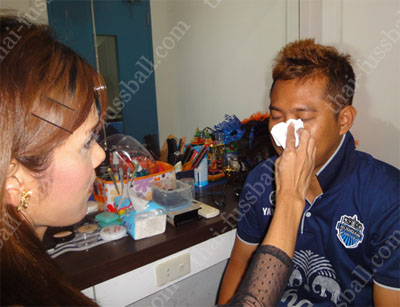 in the make up room
image: © thai-fussball.com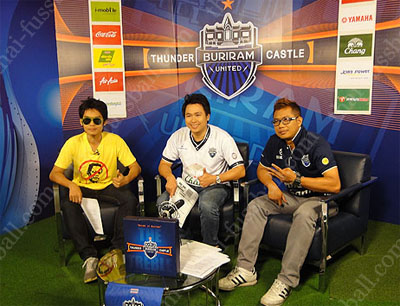 on air
image: © thai-fussball.com
view into the shop
image: © thai-fussball.com