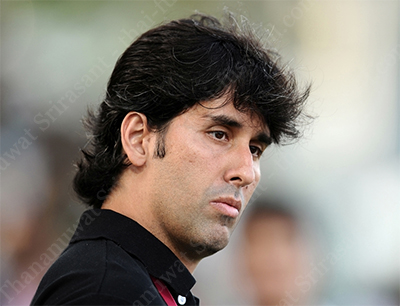 Stefano "Teco" Cugurra
image: © Thananuwat Srirasant
We are heading to mid-season in the Thai Premier League and the managerial roundabout gets in swing. After Winfried Schafer took a seat on it the last week, with Heiko Scholz another German could follow him soon.
Not only Slaviša Jokanović had to take his hat the last week when he left Muang Thong United. Also Chiang Rai United dismissed his coach. Brazilian Stefano Cugurra, who is nicknamed Teco. Between 2010 and 2013 he led Chiang Rai from Thailand's Divison One to the Thai Premier League and even to a semi-final appearance in Thailand's FA Cup last year. And despite finishing the league in ninth place and reaching the semis of the FA Cup, calls for Teco to step down by the fans where immense during last season. Banners with "Teco out" could be seen around the "United Stadium". However, Khun Mitti Tiyapairat stood to his coach. After a poor start into the current season, with only one victory from the last games, calls for his departure raised again and this time became even more vehement as before. Finally Teco had to leave.
From the club high up north of Thailand, there was to be heard that 4-5 candidates would be in line for the vacant job and it should be a coach from Europe. Promptly, first names circulated. Christoph Daum, Lothar Matthäus and even Siggi Held where in the rumor mill. All are Germans. However, none of three could have been considered seriously for the job for different reasons. Or were there only to set one on the wrong track?
Becasue thai-fussball.com has exclusive information on hand after which Heiko Scholz will arrive to Thailand this Wednesday. A less glamorous coaching name compared to the others. But his name was in the mill as well the last week, as a possible successor of Teco. The man born in the same city as MIchael Ballack, Goerlitz, will travel with his assistant coach Markus Kurth. Then, both will head to
Chiang Rai United
to get an idea of the stadium and the environment. With first talks about a possible cooperation to be held.
Thai football fans might struggle with the name and may have to use a search engine to find out more about the candidate. But don't mind. Even German football fans will do hard to associate anything instantly with the 47 year-old.
In his active playing career, Heiko Scholz was part of a legendary Lokomotive Leipzig eleven, reaching the final of the European Cup Winners' Cup 1987 against Ajax Amsterdam after beating Girondins Bordeaux in the semi finals. A season later Scholz scored his only goal in a European Cup competition: just against Maradona's SSC Napoli. Unluckily, it was an own goal.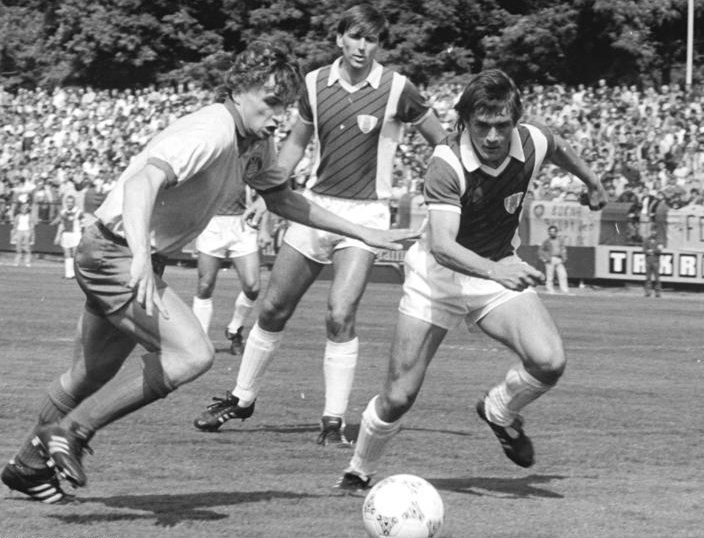 Heiko Scholz (le.) 1987
image: Gahlbeck, Friedrich (CC-BY-SA)
Beside Lokomotive Leipzig, the midfielder, played for Dynamo Dresden, Bayer Leverkusen and Werder Bremen in the Bundesliga during is career. All together he made 159 appearances in Bundesliga and 137 in East Germany's
[GDR]
top league.
His earned his first merits as a coach with MSV Duisburg, for which he worked six years as an assistant coach and with which he celebrated promotion to the German Bundesliga two times
[2005 and 2007]
. His last and first positions in charge as head coach, were lower division side Germania Windeck and Viktoria Koln. He managed Germania Windeck to promotion and earning a spot in Germany's FA Cup 2010/11 season where his side had to face German giants Bayern Munich in the first round.
He got to know his assistant Markus Kurth for the first time when both were with Bayer Leverkusen as players. Since then, both have crossed ways over and over again at various clubs. With Scholz as a coach and Kurth as a player until Markus Kurth became his helping hand at Viktoria Koln. Later he followed his former boss on the hot seat at the end of last year after Scholz and Victoria have part ways.
Should Heiko Scholz and Markus Kurth accept the job at Chiang Rai, it would raise the German contingent of coaches in Thai football to seven. Winfried Schafer just last week declared himself to help Muang Thong till the season end. Goalkeeper's trainers Franz Schwarzwalder (Songkhla United) and Gerhard Schrodinger (Chiang May FC) are to add. Not to forget fitness coach Hagen Hubner at Phuket FC, Bangkok Glass Academy Director Hans Emser, as well as Army United coach Mano Polking.
Even though Heiko Scholz is not a big name in the coaching business, he should fit Thailand and Chiang Rai quite well with his settled character. Or like Thais would say, "Jai Yen" (ใจเย็น). Should he decide to take the job, his task would be to avoid relegation. Since the club is just one point above the famous mark at the moment of the article is written.