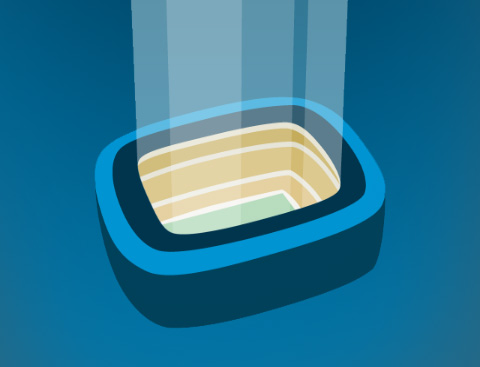 Groundhopper App start screen
If you ever where looking for an application on your mobile devices with its help you could register all your visited games and stadiums, and is helpful to guide you to the venues near you, this one could be made for you.
"It is so much fun to make a App which we use ourselves, but also because we get a lot of praise from our users." We, those are Lars Erik Bolstad and Geir Florhaug of Kepermat, two Norwegians who are behind the application "Groundhopper". Now, one could assume that both are young Nerds, somewhere at the age between 20 and 30. Or own one of those young and fancy start-ups. Neither of this applies to the two. Both are schoolfellows and now in their mid-40's. The App is a pure hobby project and they got the idea to it 2-3 years ago.
"We are old friends from school and for many years we travel around to watch football. Two to three years ago we were looking for a App with which we could register our stadium visits and which could help us to find games, for example, if we came to a new town. But there wasn't such an App. Then we have decided to make one by ourselves" tells us Jan Erik, who studied in Karlsruhe, in almost perfect German.
Who occasionally goes to football matches or even calls itself a Groundhopper - knows it. Back home from the game you just been to, you file the ticket and you note the just visited game down in an Excel file with all its available data, or in a small notebook. Or, you just entertain the idea, to finally, pen down all your visits and grounds you have visited in the past.
And as we are in the second decade of the 21st century, this is where the "Groundhopper App" steps in and helps you to archive all of them. Although at first sight it seems the App is made for Groundhopper, Nerds and Geeks, she is certainly not. Rather she perfectly hits the gap and is a bridge between old School and modern age. From the occasional stadium visitors to the season ticket holder who is watching his side only at home, to people who follow their team wherever they play.
But apart from the simple registration and archiving process of your games what else has the App to offer for you? First, there is the emotional component. The recollection of certain games returns, you rummage around in your box for old tickets and, with melancholy, think back at the times when they were not just printed on thermo paper.
While still registering the games, the App already evaluates the data and formes them in to rankings. Depending on how many games of a club were visited, it can be already be recognised how one rises in the ranking. If one is done with everything, all visited games and stadia can be seen in the profile, sorted after country and year of the visit. Besides, every single game offers the possibility to add its own notes. As of now, the profile picture still adorns a grey dummy, provided the profile is not tied together with Facebook. However, this should change in future and one will be able to use his own picture he uploaded.
Who of you know the former check-in application "Foursquare", will quickly notice that she bear a resemblance to the Groundhopper App. As with the old Foursquare, you can be the mayor of a place, in our case, the mayor of a stadium. Or in other words and to stay within the term of the App, the Number 1 Groundhopper of a venue.
To become the No.1 visitor of a stadium, one must have visit it the most among all users of course. The program also adds a Social Media component to the whole, in which you can be friend with other users. Thus you can see, for example, their last activities, speak stadium visits. And above all, the developers plan to expand the social aspects even further in the near future: "We would like to further improve the social aspects of the app, with notifications and the possibility for users to upload pictures".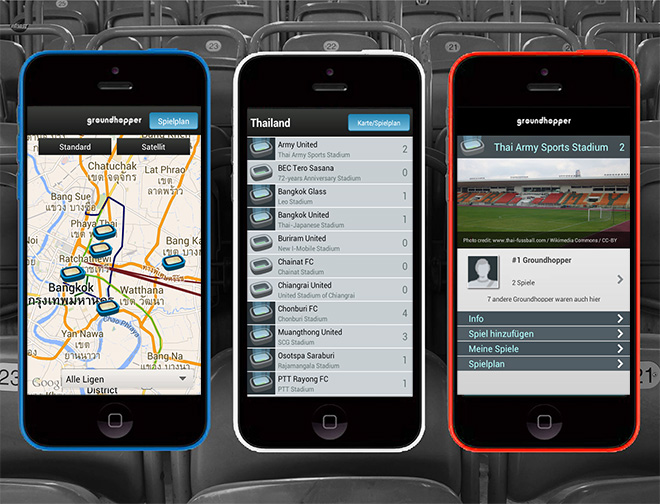 Several screens of the App
Talking about pictures. Many of the stadiums in the software is adorn by pictures which are partly provided by users voluntarily, and given with a suitable copyright. Kepermat also uses pictures which ave been uploaded to Wikipedia Commons. All together the Groundhopper App contains thousands of venues around the world, including those which were already torn off, and hundreds of leagues and schedules which not only makes the registration of past games easy, but the also planning of future visits.
The GPS in your mobile device and the App's integrated map of all venues of a country, if available, helps to define your position to a stadium just next to you or the one you plan to visit. So iIf you are at a place and want to know when and where a game is taking place near you, and how to get there, the small Software come in handy.
Now you may wonder what this App has to do with our webpage and why we drum up business for this project. And as we hardly do anything not related to Thai or Southeast Asian Football, so is here. Our page and the App are complement each other just excellently.
Since a while the application is listing all venues and clubs of the Thai Premier League. With the latest update (6.6), which has been released just recently, all Division One venues, plus some extra, like the Thephasadin Stadium, are added too with the help of thai-fussball.com. For 2015 it is also planned to integrate all Regional League venues in Thailand in cooperation with us.
So it enables you to plan and archive your visit of games and stadiums in Thailand in combination with our webpage from underway and on site. Of course we also use the program and have entered our stadium visits from Thailand. That has been basically why we got the idea in first place to write an article about and to get in touch with the people behind.
As we have many readers from all around the region in Southeast Asia, other countries are covered as well. Not only Thailand is. So you can find a lot of venues and clubs from Indonesia, Singapore's S.League, Malaysia of course, but also Vietnam, Myanmar, the Philippines and Laos. Groundhopper App is available in different languages, most prominently in English and German.
You can purchase the App for the small money of around 1,50 Euro and she is available for Android and Apple iOS. If you like, there is a free version where you can test it. But how much earn the two Norwegians? Do they grow rich? "We do not earn a lot of money with the App. It is just enough to cover our costs and to make one or two football excursion". In this sense: Happy Hopping.