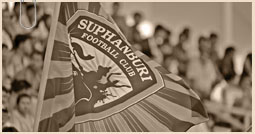 Club info

Suphanburi FC was founded in 1998 and made first experiences in the now defunct Thai Provincial League. A league existing in parallel to the Thai league. In 2006, together with Chonburi FC, the club became the first to play in the Thai Premier League not coming from Bangkok. However, since that time both sides went different ways. 2007, in the year Chonburi was crowned TPL champion, Suphanburi got relegated.
2010 the club finished second to last with only 23 points out of 30 games. Sportily relegated, a league expansion gave them the chance to play a relegation round and finally the club survived.
After eight years, the club finally could celebrate his return to Thailand's Premier League finishing the 2012 season as runner-up. Suphanburi could finish the season in fourth place and missed the qualification for the AFC Champions League group stage just by a few points.
With 18 goals in 2014, German Lindemann has set a new record as best goal scorer in the clubs TPL history.
Notable:
Suphanburi is owned by politician family Silpa-archa. Warawut, the acting president is son to former prime minister Banharn Silpa-archa. Chumpol Silpa-archa, currently is responsible for the Ministry of Sport and Tourism.
players to watch:
Charyl Chappuis, Sinthaweechai Hathairattanakool, Chananan Pombuppha
Suphanburi Stadium

Suphanburi FC
สุพรรณบุรี เอฟซี