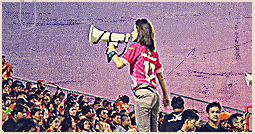 Club info
Like the most provincial teams in Thailand, Sukhothai FC was founded in 2009 and played it's inaugural season in the Regional League. However, just in the past three years, the club made the breakthrough.
After spending its first years at the bottom half of the tables in the Regional League, Sukhothai finished 3rd in 2013 and could land its first appearance in the play-off round to Thailand's Division 1. Finishing one point short, Sukhothai FC missed promotion.
A year later and as champions of its zone, the side managed a marching-through from the Regional League to Thailand's top-flight.
Freshly promoted to Thailand's top-flight, Sukhothai played a good role and caused a suprise when finishing eight at the end of the 2016 season.
The Fire Bats
also managed to reach the semi-final of the Thai FA Cup. However, with the dead of King Bhumibol all competitions in Thailand came to a sudden end. And so the FA Cup 2016.
In order to decide who can represent Thailand in the AFC Champions League 2017 as FA Cup winner, a lotterie took place which eventually saw Sukhothai FC as the winner.
players to watch:
John Baggio, Hiromichi Katano, Yuttapong Srilakorn
Thung Talay Luang Stadium


Sukhothai FC
สุโขทัย เอฟซี
Facts
founded:
2009

president:
Somsak Thepsutin
head coach:
Pairoj Borwonwatanadilok
nickname:
The Fire Bats

club colors:
Red-Yellow
website:

sukhothaifootballclub.com

fansite:
n/a
twitter:
n/a

facebook:

Sukhothai FC auf Facebook

Honours
TPL 2016

8th

FA Cup

Champion 2016 (due lotterie)

RL North

Champion (promoted)