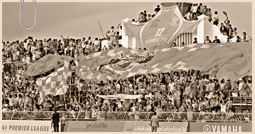 Club info

Sisaket FC has been founded in 1998. After they got relegated from Division One in 2007, the club bounced back immediately, and even more, gained promotion to the Thai Premier League in 2009. With that success the club became the first in Thailand's top-flight having its grassroots in the north-eastern part of Thailand, known as Esan.
Sisaket finished its first year in the TPL at bottom of the table. Due to a league expansion from 16 to 18 clubs, play-offs were held. With it Sisaket together with Army United got a second chance and were able to stay up.
After the 2011 season the club moved to Ubon Ratchathani. In the course of it the club was renamed Esan United. Fans of the club staged protests around the country and throughout the year. 2 weeks ahead of the 2013 season, league and association ruled the club back to its true ownership. There was evidence of fake signatures on the ownership rights which lead to the move to Ubon Ratchathani.
However, the dispute lastest almost throughout the whole 2013 season until it was eventually solved by the court. Therefore Sisaket could not be part of the TPL.
Since 2014 the club is part of the TPL under his old name again.
players to mention:
Leroy Lita, Ekkapan Jandakorn, Kittipong Wongma
Sri Nakhon Lamduan Stadium
Sisaket FC
ศรีสะเกษ เอฟซี
Facts
founded:
1998

president:
Thaned Kruea-rat
head coach:

Velizar Popov (Bulgaria)

nickname:
Dangerous Koupreys
club colors:
orange
website:

www.sisaketfc.net



fansite:
n/a
twitter:
n/a

facebook:

Sisaket FC on Facebook



Honours
TPL 2016
13th