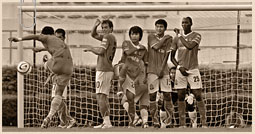 Club info

Ratchaburi FC was founded in 2004 and played it's trade in Thailand's former Pro-League right from the beginning. He later moved under the roof of the Thai FA and in 2007 played in Thailand's Division One for the first time. Though the club was relegated immediately.
After three years, finally in 2011, the club regained promotion and took the club just one more season to become champion of Thai Division One and playing TPL in 2013 for the first time in its history.
Beside the two promotions Ratchaburi FC made it to the League Cup Final two consecutive times. 2012 and 2013. On both occasions the club faced defending titleholder Buriram United eventually losing 1-4 and 1-2.
With Spaniard Ricardo Rodriquez at the helm Ratchaburi stun a surprising 5fth place finish in 2014. Golden Boot winner Heberty had his share on the success with 26 goals.
players to watch:
Apiwat Ngaolamhin, Alharbi El Jadeyaoui, Takafumi Akahoshi
Mitr Phol Stadium

Ratchaburi FC
ราชบุรี เอฟซี
Facts
founded:
2004
president:
Boonying Nitikarnchana
head coach:
Juan José Rojo Martín (Spain)

nickname:
Dragons

club colors:
Orange

website:

n/a
fansite:
n/a
twitter:
n/a
facebook:

Ratchaburi FC on Facebook

Honours
TPL 2016

6th

Division One

Champion 2012

RL-Central

Champion 2011

League Cup

Finalist 2012, 2013