Club info
The club was founded in 2009 and played its first season in the Regional League. With the 2010 season the authorities forced the club to move from the Central East Zone to the South Zone. In protest, the club hasen't played the season and returned after an one year break.
After two mediocre seasons (2011 & 2012) Prachuap finished second in the Central West Zone and qualified for the promotion round to D1. However, Prachuap finished bottom of its group in its attempt to get promoted.
2014 the Prachuap then again was put in the South Zone but could and finish the season as champion. Through the promotion round Prachuap eventually got promoted to Division 1 for the first time.
player to watch:
Willen, Sompob Nilwong, Amorn Thammanarm
Sam Ao Stadium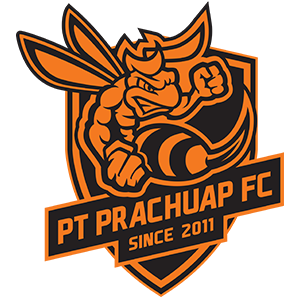 Prachuap FC
ประจวบ เอฟซี
facts
founded:
2009

president:
Songkiat Limaroonrak
head coach:
Thawatchai Damrong-Ongtrakul
nickname:
The Killer Bees

club colours:
yellow/green
website:
n/a
fansite:
n/a
twitter:
n/a

facebook:

Prachuap FC auf Facebook

honours
Division One 2016

7th

RL South

1st (204; promotion to D1)