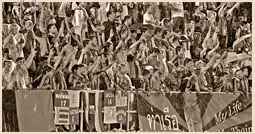 Club info

Founded in 1967, as Port Authority FC, the club is one of the big traditional, if not even the biggest, in the Thai Premier League at current stage. No other club in Thai Premier League won more championships. In addition six Queen's Cup trophy's are in the cabinet.
In 2009, after a 16 year drought, the club added another trophy in wining the Thai FA Cup beating BEC-Tero by 5-4 after penalties. In 2010 Thai Port won the League Cup and it was the second title for the club in two consecutive years.
The club reached its last hight in recent years in 2011, making it to the league cup final for a second consecutive time. One year later the club faced its first relegation and made a quick comeback after one season in Division 1.
Following riots after the game against Muang Thong in 2014, the club were deducted 9 points as a penalty. Despite the was able to keep its TPL status.
A week before the 2015 season kicked off the club was overtaken by the women's national team manager Nualphan Lamsam.
notable:
Even PAT Stadium is not far from Bangkok's notorious Sukhumvit Road, it is located right in the heart of an area which is one of the poorest in Bangkok, next to the harbour. Thus, hardly any another club in the TPL stands for a part of a city like Singhtarua does.
player to mention:
Sergio Suarez, Elias Dolah, Pakorn Prempak
PAT Stadium

Port FC (Tarua)
การท่าเรือ
Facts
founded:
1967
president:
Nualphan Lamsam
head coach:
Jadet Meelarp
nickname:
Singh-jao-tha
club colors:
blue/orange
Webseite

portfootballclub.com



fansite:

portfcsandpit.com



Twitter:

@PortFC_Official



Facebook:

Port FC on Facebook



Honours
Division One 2016

3rd (promotion)

Thai Champion

1968, 72, 74, 76, 78, 79, 85, 90

Thai FA Cup
winner 2009
League Cup

winner 2010
finalist 2011

Queen's Cup
winner 1977, 78, 79, 80, 87, 93