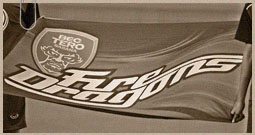 Club info

The club was founded in 1992 by the reigning association chairman Worawi Makudi as Sasana Witthaya School FC. Since 1998 the club is known by its name of today.
The owner of the club is BEC-Tero Entertainment. Since the founding of the Thai Premier League in 1996, BEC-Tero never been relegated and can be considered as one the top clubs in the league. His biggest success came in 2003 with advancing to the AFC Champions League Final. Back in this time BEC was formed out of great players like Dusit Chalermsan, Seksan Piturat, Worrawoot Srimaka and last but not least Therdsak Chaiman. Latter was awarded AFC Player of the Year in 2003.
The club brought his 12-year long trophy drought to an end by eventually winning the League Cup in 2014.
player to watch:
MichaŽl N'dri, Datsakorn Thonglao, Pichitphong Choeichiu
Boonyachinda Stadium

Police-Tero Sasana
สโมสรฟุตบอลบีอีซี เทโรศาสน
Facts
founded:
1992
president:
Brian L. Marcar
head coach:
Uthai Boonmoh
nickname:
Fire Dragons
club colors:
Red-White
website:

www.becterosasana.com



fansite:
n/a
twitter:

@becterosasanafc



facebook:

Tero on Facebook

Honours
TPL 2016
9th
Thai Premier League
champion 2001, 2002
runner-up 2003, 2004
Thai FA Cup
winner 2000
finalist 2009
League Cup

winner 2014

Champions League

final 2003