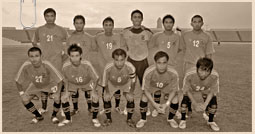 Club info

Nakhon Ratchasima FC, during early years also known as a Korat Stingray, was founded in 1999. Up to 2007 the club played in the Pro-League under the roof of the SAT. After the league was dissolved and all teams came under the roof of the Thai FA, Korat played its trade in Division One for a year. Finishing ninth wasn't enough to hold onto the league, and the club was relegated.
After three fruitless attempts, Nakhon Ratchasima regained promotion at the end of 2011. With the 2012 season, the club was taken over by politician Suwat Liptapanlop. Though officially he doesn't conduct any business.
After finishing the Division 1 in 8 and 5 in 20012 and 2013 respectively, the club finally could got promoted to the TPL as Champion of Division 1 in 2014.
Notable:
80th Birthday Stadium serves as venue for the "Swat Cats" It is one of the most modern multi function arenas in Thailand. It was build in purpose of the SEA-Games 2007.
Commonly the club is called Korat FC. Though it can lead to confusion as a second club exists in Nakhon Ratchasima indeed named by this. He currently plays in Thai amateur leagues.
players to watch:
Dominic Adiyiah, Naruphol Ar-romsawa, Chalermpong Kerdkaew
80th Birthday Stadium

Nakhon Ratchasima FC
นครราชสีมา เอฟซี
Facts
founded:
1999
president:
Prasert Boonchaisuk
head coach:
Milos Joksic

nickname:
Swat Cat
club colors:
Orange-White

website:

n/a
fansite:
n/a
Twitter:
n/a
facebook:

Nakhon Ratchasima FC on Facebook

Honours
TPL 2016

11th

Division One 2014

1th (Champion)

RL North-East

Champion 2011