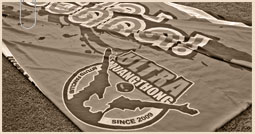 Club info

Muang Thong United was founded in 1989 and till recently was some a kind of "Hollywood" Club or Cinderella story. Within three years the club made it from the 3rd Division to Thailand's topflight. Muang Thong gained 3 titles in a row, starting with the win of the 3rd Division in 2007 and ended with the Thai Premier League title in 2009. He even managed a back-to-back title win and advanced to the semi final of the AFC Cup in 2010.
In 2010 and 2011 they come off second best in Thailand's FA Cup final. Loosing to Chonburi and Buriram.
Between all those successes it seems the club lost track and view for the basics. 2011 four coaches been raddled. In summer of the same year, even veteran striker Robbie Fowler joined the club. First as a player, and later as players coach.
With beginning of season 2012 and for a total of five years, cement manufacturer SCG jump aboard and bought his stake in the club. Furthermore secured name rights on the stadium and a place in the clubs name for five years. The contract has been extended for another term of five years by 2017.
Muang Thong dominated the season 2012 in an outstanding manner eventually winning its third TPL trophy without a loss. However, it took the club until 2016 to win the TPL for a fourth time.
notable:
Since 2009 the club is in ownership of the Siam Sport Syndicate, Thailand's biggest sports media group. The club is without doubt one of the most professionally and well organized clubs in Thailand.
Still in 2008 Muang Thong's number of spectators were in the area of 100. Two years later in May 2010, for the match between MTU and Chonburi approx. 21,000 showed up. Muang Thong counts as one of the most popular domestic clubs in the country.
players to watch:
Teerasil Dangda, Kawin Thammasatchanan, Chanathip Songkhrasin
SCG Stadium

SCG Muang Thong United
เมืองทอง ยูไนเต็ด
Facts
founded:
1989
president:
Pongsak Phol-Anan
head coach:
Totchtawan Sripan
nickname:
The Twin Qilins
club colors:
red/black
website:


www.mtutd.info

(EN)
fansite:
n/a
twitter:

@MuangthongUtd

facebook:

MTU on Facebook

Honours
TPL 2016
1st (Champion)

Thai Premier League

champion 2009, 2010,2012, 2016

TPL Division One

champion 2008

Thai FA Cup

final 2010, 2011, 2015

AFC Cup

semi final 2010