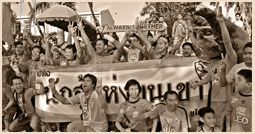 Club info

Chiang Rai United was founded in 2009. In its first season the club participated the Regional League and was able to win its division and qualified for the play-offs. Coming second in the final round, Chiang Rai gained promotion to Thai Premier League Division One.
After the end of the 2010 season, the club from the north was able to achieve promotion again finishing third. Thus after Sisaket FC the year before, Chiang Rai become the second club managing a walk through.
For the two years, Chiang Rai United didn't an issue with relegation and finished mid-table respectively. The sides biggest achievement in their history came in the 2012 season when reaching the semi-finals of the Thai FA Cup.
With Teerasak Po-on at the helm in its first year, Chiang Rai finished the 2014 season at a remarkable 7th place.
notable:
After several years of construction Chiang Rai United finished its own stadium, the "United Stadium" in 2012. With only a few hundred meters away from the airport, it may guarantee you one of the fastest arrival/departures via plane in the world of football.
players to watch:
Tanaboon Kesarat, Rafael Coelho, Sivakorn Tiatrakul
United Stadium

Chiang Rai United
เชียงราย ยูไนเต็ด
Facts
founded:
2008
president:
Mitti Tiyapairat
head coach:
Alexandre Gama (Brazil)
nickname:
fighting beetles

club colors

white-orange
website:
n/a
fansite:
n/a
twitter:

@CRUtd

facebook:

Chiang Rai United auf Facebook

Honours
TPL 2016
7th
Thai FA Cup

semi-final 2012