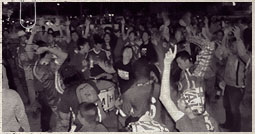 Club info
Chiang Mai FC was founded in 1999 and played its trade in Thailands Pro-League until 2007. At that time the club colours were pink and the heraldic animal was an elephant.
In 2009 they club got restructured. New badge, new person in charge and with
Lanna Tigers
they even got a new nickname. The club finished 9th in the Regional League Division North just to win it a year later. It qualified Chiang Mai FC to participate in the play-offs which they mastered successfully.
But the first ever adventure in the Thai Division One in 2011 lasted only one season. It took the side two years to bounce back.
However, a second period was on the limbo when club president Udonpan Jantaraviroj announced to withdraw the team and his support form the second tier. After lengthy discussions and fan protests he agreed to go on.
With the end of the 2015 season, Chiang Mai was relegated. But Division 1 champion Police United failed to get a licence for the top two tiers and the Lanna Tigers could remained in the league.
Before to the 2016 the season the club was in financial troubles and got financial support from Bangkok Glass just to be taken over by the Boon Rawd Brewery (Leo & Singha) at the end of the year.
players to watch:
Hristijan Kirovski, Malek Yawahab, Teerapong Deehamhae
700th Anniversary Stadium


Chiang Mai FC
เชียงใหม่ เอฟซี
Facts
founded:
1999

president:
Prapod Kerdchalern
coach:
Sugao Kambe (Japan)
nickname:
The Lanna Tigers

club colors:
blue/white
website:

www.chiangmaifc.com

fansite:
n/a
twitter:
n/a
facebook:

Chiangmai FC on Facebook

Honors
Division 1 2016

9th

RL North 2013

1st (Champion & promotion)