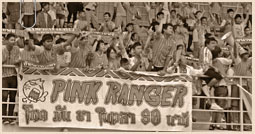 Club info

Chainat FC was just founded in 2009. In their very first season Chainat was able to finish 3rd in the Regional League Division North a did one better the following year.
The "Hornbills" as they nicknamed, qualified for the play-offs. Finishing it second earned them promotion to Division One.
They did not stop there marching through the league ending with promotion to Thai Premier League.
As a result of the death of King Bhumibol the 2016 season ended abruptly with three games to spare. By this time Army ranked 16th with 30 points and still had chances to escape the trapdoor. But with the decision of the league to end the season, the club was relegated.
players to watch:
Florent Pongolle, Narongchai Vachiraban, Sarayuth Chaikamdee
Khao Plong Stadium

Chainat FC
ชัยนาท เอฟซี
Facts
founded:
2009

president:
Anucha Nakasai
head coach:
Björn Kliem (Germany)

nickname:
Hornbills
club colors:
Pink/White
website:

www.chainatfc.com

fansite:
n/a
twitter:
n/a
facebook:

Chainat FC auf Facebook

Honours
TPL 2016

16th (relegated)

Thai FA Cup

Semi-final 2015

Division One 2011
2nd (promoted)

Regional League North

runner-up 2010 (promoted)