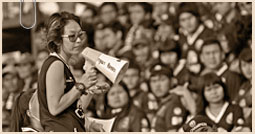 Club info

Buriam United was founded way back in 1970 as Provincial Electricity Authority FC, owned by the same company. In 2008, back than the club was based in the city of Ayutthaya, surprisingly, became champion of the TPL ahead of hot favored Chonburi FC.
At the end of 2009, Thai politician Newin Chidchob took control over the club and transferred him to Buriram, a city in the north-eastern part of Thailand.
In 2010 Buriram-PEA finished runner-up and reached the final of the League Cup.
Just one season later Buriram broke all records and won the treble.
At the end of the same year, 2011, the club merged with Buriram FC, which till than was lead by Newin Chidchob's wife Karuna, and got renamed Buriram United.
In 2011, 2013 and 2015 the club won a treble of League, FA Cup and League Cup.
notable:
No club in Thailand knows to polarize fans throughout the country like Buriram. Either one hates, or one loves the side. The latter applies rather to fans, which be connected to Buriram in any form. Opponents, with pleasure like to refer on the Sun king, patriarch habits of club boss Newin Chidchob and his wife Karuna.
The club owns the biggest stadium of Thailand in private hands. It suffices international standards and official internationals may be held here.
player to watch:
Jajá Coelho, Sölvi Ottesen, Supachok Sarachat
new I-mobile Stadium

Buriram United
บุรีรัมย์ ยูไนเต็ด
Facts
founded:
1970 (as PEA FC)

president:
Newin Chidchob
head coach:
Ranko Popović (Serbia)
nickname:
Thunder Castle

club colors

dark/blue
website
n/a
fansite:
n/a
twitter:
n/a
facebook:

Buriram on Facebook

Honours
TPL 2016
4th

Thai Premier League

Champion 2011, 2013, 2014
runner-up 2010

Thai FA Cup
winner 2011, 2012, 2013

League Cup

winner 2011, 2012, 2013
finalist 2010

Kor Royal Cup

winner 2013, '14, '15