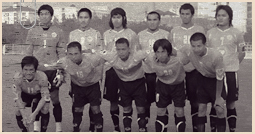 Club info

Bangkok United was founded in 1988 under the name of Bangkok University FC. The club sees itself as the club of the Bangkok people. Biggest shareholder of the club is the True Corporation. Furthermore the club is financially supported by the Bangkok authorities. Winning the Thai Premier League in 2006, was the biggest achievement so far.
At the end of the 2010 season Bangkok United found themselves on a relegation spot. However a league extension gave them a second chance in relegation play-offs. Bangkok United missed that opportunity and was relegated for the first time sine 2003.
The club aimed to bounce back immediately but missed his target with finishing 6th. For the season 2012, Sasom Pobprasert was hired who lead the team to promotion.
Midway of the 2014 the club was in relegation trouble and Mano Polking has been hired as coach. Since he took over, the team improved every season and finished the 2016 season as a runner-up. Untile the sudden end of the season, Bangkok United still had the chance to win the league. Although only mathematically.
However, not less are saying Bangkok United is playing the best attacking football in the country under Polking's lead.
Notable:
Though Bangkok United club sees itself "as the club of the Bangkok people", attendance figures don't really seem to underline this statement. And since 2016 the club is playing in the outskirts of Bangkok, doing itself no favour in terms of attandence and fan base wise.
players to watch:
Jaycee John, Sanrawat Dechmitr, Mario Gjurovski
Thammasat Stadium
Bangkok United
แบงค็อก ยูไนเต็ด
Facts
founded:
1988
president:
Kachorn Chiaravanont
head coach:
Mano Polking (Germany)

nickname:
Bangkok Angels
club colors:
Silver/Black

website:


www.bangkokunitedfc.com



fansite:
n/a
twitter:

@BangkokUnitedFC

facebook:

Bangkok United on Facebook

Honours
TPL 2016

2nd
Thai Premier League

Champion 2006

TPL Division One
Champion 2003

Singapore Cup

semi final 2007