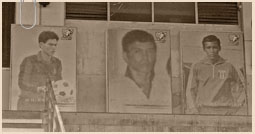 Club info

Air Force United was founded in 1937 under the name of Royal Thai Air Force FC. The club belongs to the Thai Royal Air Force. Since 2004 the club has to play it's trade in Thailand's second division. However, winning 13 domestic championships, it makes the club the most successful one in Thailand. In 2010 the club was renamed to Air Force United.
At the early stage of the 2010 season it looked like the club would be able to cruise easily back to the Thai Premier League. With loosing too much games during second half of the season, it only meant play-offs at the end. But even this last chance couldn't be converted. Since, the club is engaged in relegation battle every season.
In 2013 Air Force as a surprise to many, could win the Division One in a quite comforable manner and after a 10 year break Thailand's record champion made its return to the TPL.
After one year in the TPL, 2015, the club got relegated again.
Notable:
With Piyapong Piew-on, one of the most prolific strikers of Asia at his time was in the ranks. From 1984-86 the legendary striker even played in South Korea.
players to watch:
Leandro, Kazumichi Takagi, Kiatjarern Ruangparn
Thupatemee Stadium

Air Force United
แอร์ฟอร์ซ ยูไนเต็ด
Facts
founded:
1937
president:
Wanthana Maneechai
head coach:
Sasom Pobprasert
nickname:
Blue Eagles

club colors:
Blue/White

website:

n/a
fansite:
n/a
twitter:
n/a

Facebook:

Air Force United on Facebook



Honours
Division One 2015

9th

Championship

winner 1952, 1953, 1957, 1958, 1959, 1960, 1961, 1962, 1963, 1967, 1987, 1996, 1999, runner-up 1998, 2000
Thai FA Cup

winner 1995, 1996, 2001
Queen's Cup

winner 1970, 1974, 1982